Dhaka is one of the crowded cities in the world. Also one of the busiest traffic in the entire world. The crowd and people who travel every day through bus transport is insane. The number of people who use the bus transport service in Dhaka is huge. The number can be more than some of the countries entire population. But that's not our topic. Today we are here to discuss the entire bus transport service in Dhaka city. This article is a kind of user guide. I'll try to brief about how bus transport run in Dhaka city. So let's get started.
Existing Bus Service In Dhaka City
In Dhaka city, there are two types of bus transport services. We can categorize those as
Counter Bus Service
Local Bus Service
Counter Bus Service: This type of bus transport service has a certain bus counter or stoppage in a specified location. People who wanna travel have to buy tickets from those counters or stoppages before they enter the bus. They can't go and enter the bus before buying the tickets from the stoppage or counter. There can be so many counters of one Counter Bus Service, and people can buy the ticket from any of their bus counters. And then arrive on their bus. And this type of bus does not stop anywhere they want and they can not pick up passengers from anywhere. They have specified stoppages.
Local Bus Service: This type of bus transport is usually very crowded in Dhaka city. And local bus service has no specified stoppages or counter. You do not need to buy tickets before entering the bus. That's totally the opposite of Counter Bus Service. When you enter the bus and then you can see a helper, who may collect money from you without the ticket or they may have tickets. But the main thing is you have to pay after you enter the bus, not before entering. And this type of bus has no specified stoppages. So they can stop and pick up or drop passengers from any places they want. It's totally up to them.
Selected Bus Route And The Operators In Dhaka City
We have categorized this part into four different segments. As you can see, there is a list of Bus Routes, Bus Stops, Selected Bus Services, and the types of the selected bus service. Only five different bus routes were selected for the research. There can be more bus routes available in Dhaka city and also for those other three segments. The list was given in the following as an image. Look out the list in detail.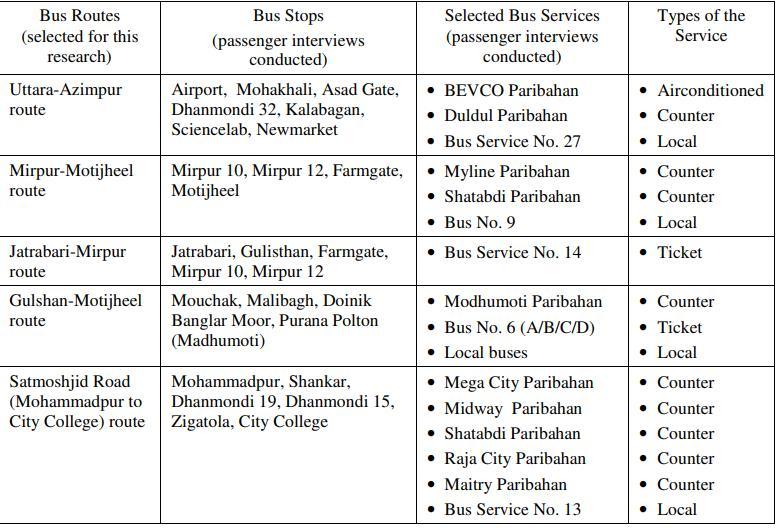 Now Let's talk about the existing bus routes in the Dhaka city. Municipal is thinking about trying to expand or edit those routes. So this map may change. According to DMRTC, Dhaka Metropolitan Regional Transport Committee, there were 39 different bus routes. This statistic was of 2009. After that, this is really hard to determine the exact number of bus transport routes and stoppages in Dhaka city.