Traveling by bus has become easier now because of some digitalization in the bus transport service. There are many companies offering people online bus ticket booking services easily. Nowadays, you can buy a bus ticket from home. If you have a mobile phone and an internet connection on it. You can also buy 0r book a bus ticket from your device online. The process is not hard. The process to buy bus tickets from home is easy. You just have to follow some steps. Today we will discuss the process. There are many ways to book a bus ticket from home. From anywhere you want. So let's get started.
Online Bus Ticket Booking Service
We have found three steps to buy or book bus tickets from home. But having a phone and internet connection on it is a must. We have categorized the process into three parts, those are
Buying or booking tickets From Website
Buying or booking tickets from a mobile app
Booking tickets by dialing the exact number of a bus counter*
Not every bus will allow you to book their bus ticket by calling them via phone. That is why we have put a star icon there. But you can buy or book any bus tickets from a third-party website or the direct official website of a certain bus transport company. You can also buy bus tickets from mobile apps like Shohoz. We will be talking about that in the following.
Buy Bus Ticket Online via Shohoz and Busbd
There is some third-party website that allows you to buy bus tickets for your required route. Shohoz.Com is one of them. It is one of the trusted Places to buy bus tickets online from home in Bangladesh. You can easily buy your favorite bus tickets from Shohoz and obviously your destination. There is so many bus transport company that allows to book or buy their tickets via Shohoz. Shohoz is doing a very good job in their business. They are earning trust from people day by day.
The process to buy bus tickets from Shohoz is very easy. You just have to go to their official website. And you will see a window like the upper image. Now just fill up the form with the necessary information. There can be more than one bus available on one route. You can have choices to pick. Busbd.Com is also the same as Shohoz. But we do not have much information about them.
Online Bus Ticket Booking via the Mobile app
Shohoz has its official mobile app available on the play store. You can download it and then you can easily buy bus tickets through their mobile app. It is easier than buying from a website. Watch out for this image in the following. This image contains the link to their official android app from the play store.
This is the official mobile app of Shohoz. From here, you can book/buy bus tickets on various buses. Mostly, inter-district buses sales their bus tickets via Shohoz.
Bus Transport Companies Official Website To Buy Tickets
Some of the bus transport companies have their own official website. Where you can directly book or buy bus tickets without third-party involvement. Some big names in the bus transport companies like Greenline, Shyamoli has their own website. And they sell their bus tickets through their official website. Watch out for this screenshot below.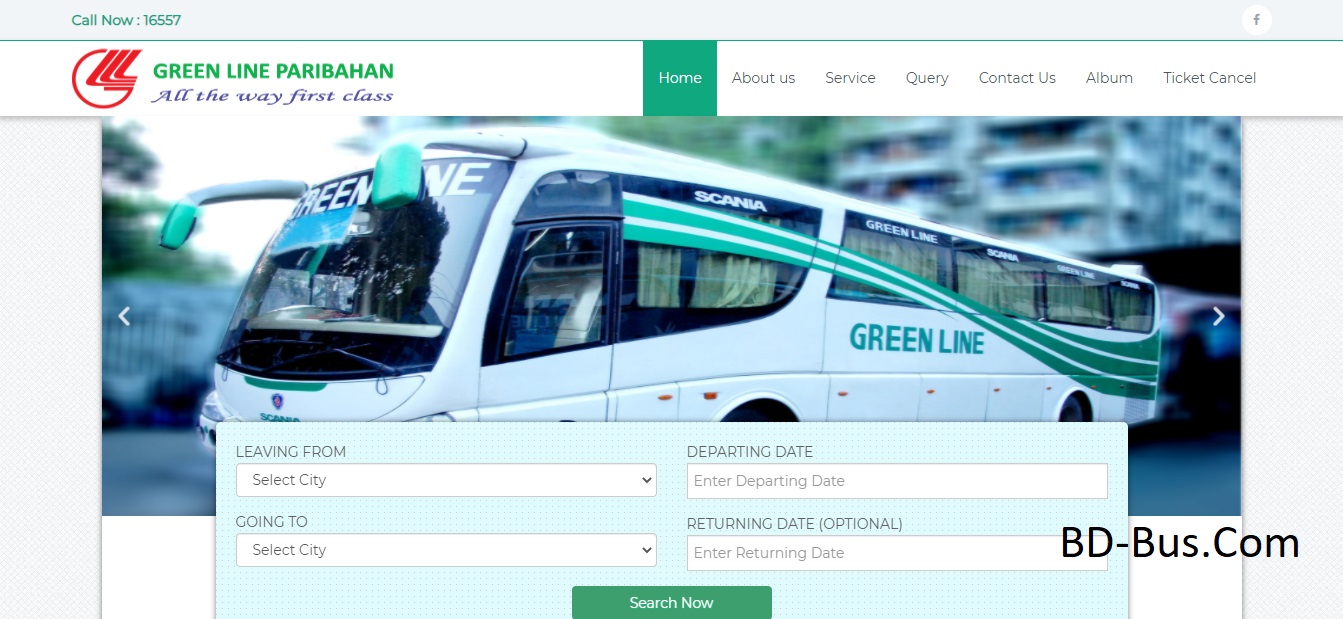 Here you have to fill up this form and search if any bus available at your destination. Fill the form, type where you are leaving from and going to. And also fill up the departure and returning date.
Buy Bus Ticket Online
If you want to buy or book bus tickets online from home, you have to pay for them, in most cases. They take pre-payment. There can be many payment gateways available there. Such as Bkash, Visacard, Mastercard, etc. We do not recommend you to buy tickets from any untrusted or unauthorized platform. You have to ensure your own security. Hope this article has helped you a bit. Please stay with us for more bus-related articles in Bangladesh. You can also put feedback and let us know if we have mistaken something.