Transportation vehicles means the vehicles that help for the movement of persons and goods from one place to another place. Transportation is a very important part of humans life. In Daily life, every people need transportation for their own activity. As a result of the improvement of civilization, presently many transport vehicles are available. In Bangladesh, there are many transport vehicles available like Bus, track, micro, bike, CNG, Autorikshaw, Van, Bicycle, etc. Among all the transport vehicles, the bus is one of the best choices for the Bangladeshi peoples. Because the bus journey has a lot of advantages. Though there are also some bad sides to the Bus journey. In this article, I am going to show you the good side and the bad side of the bus traveling in Bangladesh. Keep reading carefully.
Bus Transportation Demand In Bangladesh
Bangladesh is a populated country. The total area of Bangladesh is about 148,460 square km. But this country has a huge population, more than 180 million peoples live in this small country. It is one type of challenge to arrange a proper transportation system for this huge population. In this situation in Bangladesh, bus transportation brings a new dimension. Day by day the buses became one of the most popular transport vehicles in Bangladesh. Most of the peoples are chose the bus for their journey because buses are provided many facilities and these are attacked people so much. But you know besides the good side of buses, there are also some bad sides. Below I have shown the advantages and disadvantages of bus traveling. To know more, keep reading.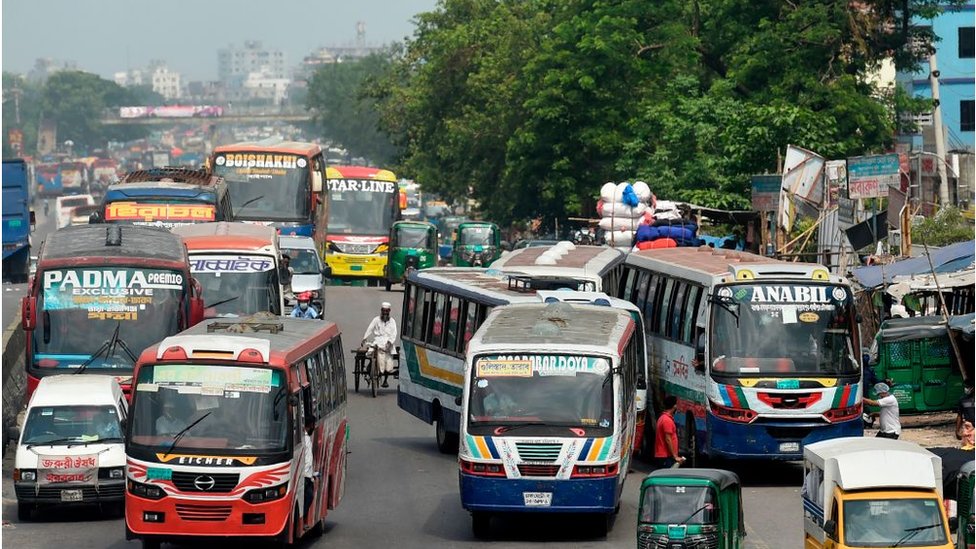 Advantages Of Bus Traveling
There are a lot of advantages to Bus traveling. In Bangladesh, the bus service provides many tranquility services to passengers. I have tried to show you some of the good sides of bus traveling. These are given below by point.
The low ticket price is the first good side of the bus service. People from all walks of life can buy a bus ticket. Basically, the people of Bangladesh are mostly attacked by bus for the cheap rate ticket price.
Power Outlets And Wi-Fi Facilities
In Bangladesh there are some of the modern buses, these provide the power outlets and Wi-Fi service. When the battery of your phone runs out of charge, you can charge your phone by the power outlets' facility. And you can also use a free wifi service.
The bus sometimes stops so that the passengers can do their necessary work like collecting foods, toilet, etc.
No Worry About Luggage Missing
You have no worry about your luggage because there are nice arrangements on the bus to keep your luggage in a safe place. There is an extra luggage cabin available on the bus, from where you can keep your luggage.
For a bus trip, you don't have to make a plan before. You can travel by bus from anywhere anytime. It is one of the good sides that, peoples are able to get the buses almost everywhere in Bangladesh.
You will get the most comfortable seats on the bus journey. On the modern buses in Bangladesh are provided very long seats passengers can sleep in their seats.
Some of the Modern buses in Bus in Bangladesh are also provided the air conditioning system, for a better a comfortable journey air conditioning system has brought a new dimension.
Disadvantages Of Bus Traveling
So far you know the good aspects of the buses. Besides the good side of the buses, there are also some bad effects on the bus journey. Below I have given the bad side of the bus journey by point, keep reading.
Some of the local bus in Bangladesh has no limit, they continue to pick up passengers. Excess passenger creates chaos on the bus. It is a big problem for local buses in Bangladesh.
Traffic Jam is one of the largest obstacles in road transportation in Bangladesh. Most of the time peoples face traffic jams when they travel by bus. Presently in Bangladesh traffic jam is a very common thing, it can happen in anytime. Especially traffic jam is more on the road of Dhaka.
Sometimes in special circumstances, the passengers have to pay to overprice for a bus ticket. It is one of the large unfair things on the bus.
For the over traveler, passengers sometimes can't find any seats resulting in they have to travel by stand on.
For many reasons like a traffic jam unskilled driver, sometimes peoples can't reach their destination at a determined time.
That's all about the advantages and disadvantages of Bus traveling. In this article, I have written all my personal opinion. If you can't agree with me, let me know your opinion by writing a comment on the below comment box. You are able to get any bus-related information on this site. See another article to know more about all the bus services in Bangladesh.